Who we are?
Family-owned enterprise committed to innovation
---
Competence & experience since 1892
A+S BioTec GmbH emerged from a traditional milling company. It is one of 20 subsidiaries of the international Abel + Schäfer Group and is still managed today as a family-owned company committed to innovation.
Since our company was founded in 1994, we have been a reliable and competent partner, especially for the food industry, the beverage and brewing industry. In addition, we develop and plan for the cosmetics and pharmaceutical industries as well as the needs of technical applications. Secure your market leadership with natural, refined plant-based raw materials. Our location in the heart of the Euro region Saar-Lor-Lux guarantees proximity to our customers all over the continent – including you.
As a solution-oriented, experienced food processor, we also offer our expertise and production capacities as part of tailor-made services. Of course, we do this with passion and competence. And with the highest demands on technology, quality and safety.
We want to help shape progress in the future and invest in collaboration with experts from industry and research and modern, high-performance production facilities.
The high demands we place on ourselves are also reflected in our relationships with customers, suppliers and employees. Our actions are directed by trust, respect and reliability. We want to be available to you as a long-term partner – and we can only achieve this through entrepreneurial, forward-looking action and, last but not least, through the customer confidence placed in us, our products and services.
As a medium-sized company in the food industry, we are aware of our global and local responsibility. We actively live up to this obligation. Pragmatic and customer oriented.
Our image brochure:
We are your competent partner in theory and practice!
---
---
What we stand for
Quality & Responsibility
At A+S BioTec, awareness of quality and responsibility is lived on all levels. And that has always been the case. Success comes from acting sustainably. On this basis, we develop products with a promising future.
As a family-owned company, we face the ecological and social challenge and contribute to a healthier and more sustainable world through our responsible, economic action.
We support our customers in optimising the ecological footprint of their products – from the raw material to the finished goods. This starts with the crop and raw material producers who supply us with certified products.
As to renewable raw materials, we pay attention to our immediate surroundings. Our most important resource are our employees. Individual training and continuing education ensure a responsible use of ingredients, consumables and products.
Our comprehensive quality system and quality management guarantees a high-quality and reliable supply of certified products on a consistent quality level.
---
Our commitments
We strive to achieve the highest standards through certification and secure valuable competitive advantages through sustainable commitment.
We subject ourselves to various audits by external and independent inspection bodies along the entire supply chain to strongly increase our quality and to increase the consumers' confidence and loyalty to our and your products.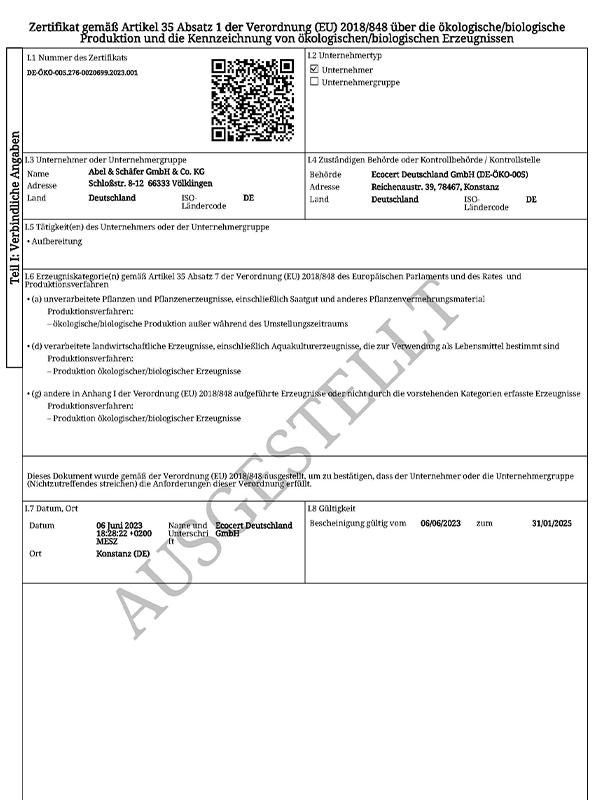 ECO Cert Group + IMO Control Abel + Schäfer
We have been committed to sustainable development in agriculture since 2005 and process products that are subject to the EU organic regulation.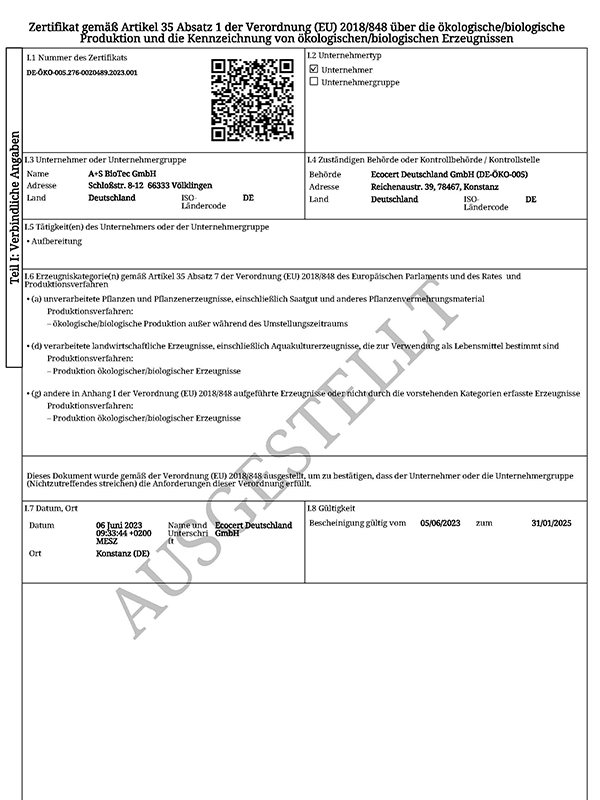 ECO Cert Group + IMO Control A+S Biotec
We have been committed to sustainable development in agriculture since 2005 and process products that are subject to the EU organic regulation.
---
Who we are?
Our history – from a traditional flour mill to a global processor and supplier of natural ingredients.
1892
Founding of the parent company Abel+Schäfer Walzenmühle GmbH as a traditional grain mill. Location Völklingen, Saarland.
1958
The family-owned company Abel+Schäfer begins under the brand name KOMPLET with the production of baking premixes for bakeries and is considered a pioneer in this branch.
1967 – 1997
Foundation of 14 subsidiaries with national and international locations
1994
Foundation of A+S BioTec GmbH as one of the 14 subsidiaries of the Abel+Schäfer Group. Production of classic cereal flours and various ingredients for food, animal feed and cosmetics.
2006
Investments in future-oriented new technologies to gradually replace milling
2012/2013
Development of competence in the field of mechanical and thermal product refinement (including line for cleaning seeds and fluid bed dryers).
2017
Investment in the innovative cryogenic technology. Soon, with regard to micronisation, particle sizes will be possible that cannot be achieved under standard conditions. Even high-fat or elastic raw materials can now be reliably refined.
2019
Investment in modern milling / sifting technology aiming to meet the increasing demand for high-protein flours and protein enrichments ("protein shift") using seeds and pulses.
---